World-class venues. Cutting-edge technology. Bold designs. Standing ovations. At Encore, you'll bring productions, meetings and events to life for some of the biggest companies on the planet. So come with your passion, creativity and vision. We'll give you all the support and training you need. Join an inclusive and welcoming team that values unique perspectives and experiences.
Ready to take the stage? Make your moment.
Interested in learning about the types of event solutions? Click to learn more about our Hybrid Events, Full Service Production, and Event Experiences.
Focus on you
Encore is a great place to work, where the focus is on you. A place where you can connect to your work and customers; where you are valued for who you are; and where you are given the opportunity and tools to grow and thrive throughout your career.
Our Team Members want a work environment where they can….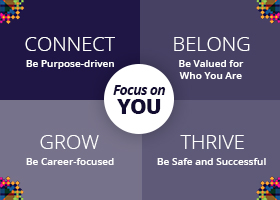 LEARN MORE
What's a day in the life like?
Sign Up For Job Alerts
Stay connected and receive the latest career opportunities at Encore.