Event Technical Specialist, Lighting- Las Vegas Hiring Event Dec. 12th & 13th
Las Vegas, Nevada
Job ID: EVENT026187
Overview
Our technicians enjoy the opportunities to work with innovative and cutting-edge technology on a daily basis. From setting equipment as elaborate as an LED wall to simply ensuring cable is properly run through the venue, our Technicians are the foundation of the events we build and bring to life. They ensure that each event is flawlessly executed, and work with the rest of the team to setup and strike down each event in a timely manner. At Encore, customer satisfaction is our highest priority, our Technicians play an integral part in establishing a positive relationship with each of our clients.
Success Profile
Here are some of the top qualities that will help you achieve success in this role:
Customer Focus
Desire to Learn
Drive Results
Technical Aptitude
Responsiveness
Hospitality
Other Important Traits
Communicator,
Team Player,
Organized,
Enthusiastic,
Versatile,
Self-starter,
Multi-tasker,
Efficient,
Safety Conscious,
Professional
The ability to put on the big shows that my hotel plans out or to teach the incoming technicians how to make these shows happen is why I really like the hustle and bustle of my day-to-day as a Technical Lead.

Purpose, Mission and Core Values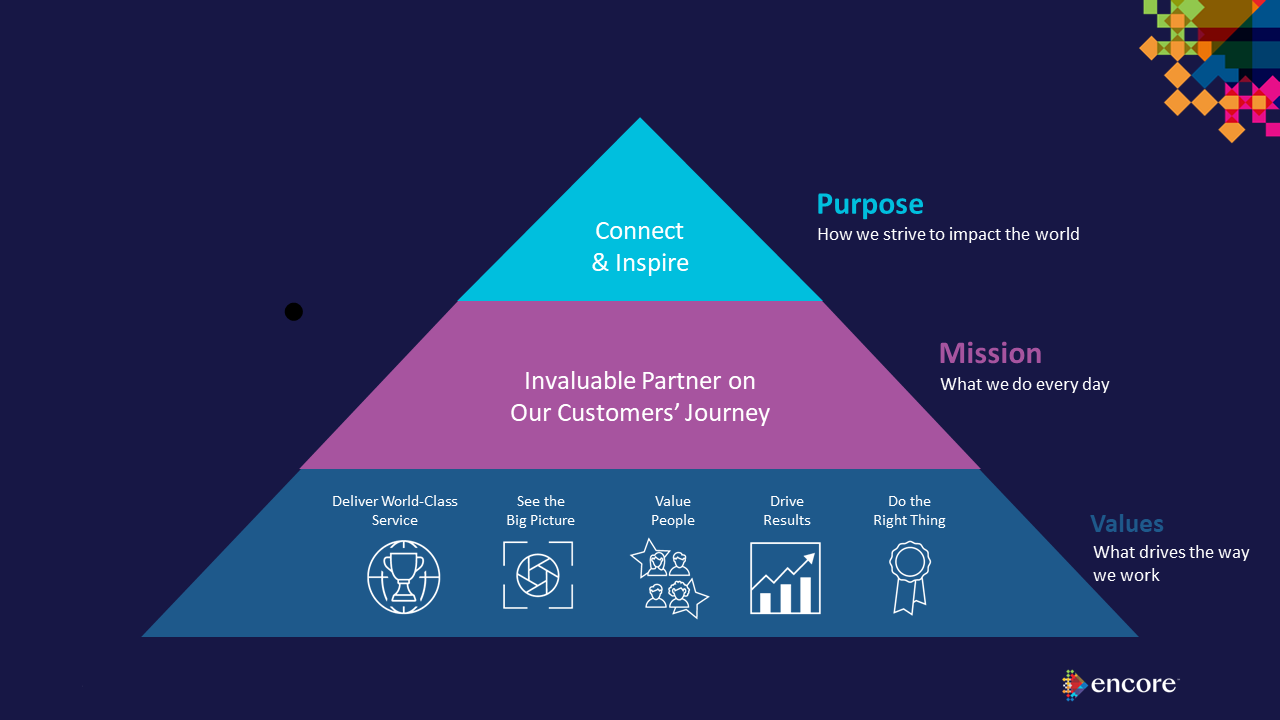 Purpose
How we strive to impact the world
Connecting & Inspire
Mission
What we do every day
Invaluable partner on our customer's journey
Values
What drives the way we work
Deliver world-class service. See the big picture. Value people. Drive results. Do the right thing.
Rewards
Paid Time Off

Vacation Days
Paid Holidays
Floating Holidays
Sick/Personal Days

Benefits

To see all benefits available, click here.

Rewards/Incentives

Premium Recognition Program (CenterStage)
Performance Incentive Plans (GEI Bonus)
Employee Referral Program
Annual Merit

Training & Development

Classroom/On the Job Training
Encore University
Career Pathing.

Mobility

Relocation
Global Transfer Opportunities
*Benefits eligibility varies upon position and/or full/part time status.
Responsibilities
Job ID EVENT026187
Date posted 10/31/2023
Join the leading global event production company in Las Vegas!  
Encore will be hosting scheduled interviews for skilled technical specialist
Invitation appts only- please apply online to confirm interview
Discover a place where you're empowered to learn and grow, building a career that's packed with development opportunities, mobility, rewards and a unique culture. That's our focus on you. At Encore, you'll join a team that delivers innovative event solutions that can vary from small meetings,virtual and hybrid events, full-service production, event experiencesand global multi-media conference events with thousands of attendees. Here, you'll have everything you need – including our full support – to take your skills to the next level and define your future.
Discover why we're a leading international provider of professional event technology services and help us turn ordinary meetings into extraordinary experiences.
We will be hosting on-site interviews in the Las Vegas market on Tuesday, Dec. 12th & Wednesday, Dec. 13th. This is an opportunity to meet with several hiring managers and key decision makers in the region!  To be considered, please apply to the job "Event Technical Specialist, Lighting- Las Vegas Hiring Event Dec. 12th & 13th" posting on the Encore Career Site: https://jobs.encoreglobal.com. If qualified and selected, a confirmation time and specific location details will be included in the official invite.
Position Overview
The Technical Specialist is responsible for the set up and operation of small to large-scale audiovisual systems for live events while ensuring the utmost in client satisfaction.  This position reports to a Project Manager, Operations Manager, Operations Director, or Director, Event Technology.
Key Job Responsibilities 
Equipment Operation
• Ensures a flawlessly executed event through accurate and timely setup, operation, and breakdown of advanced audiovisual equipment as listed in the technical qualifications section.
• Troubleshoots technical issues and resolve problems quickly as they arise.
• Complies with all Company security and safety measures.
• Ensures equipment is secure from theft and/or damage when in use. 
Customer Service
• Provides excellent service and strives to exceed the expectations and needs of internal and external customers. 
• Maintains a positive relationship with all clients through effective communication.  
• Collaborates with internal team on event solutions pre event and during event to ensure the best possible customer satisfaction. 
• Understands and fosters the hotel/client relationship. 
Training/Staff Development
• Creates an atmosphere that fosters the development of technical and leadership skills in other employees.  
• Provides mentorship and coaching to technical, sales and operations team members to develop technical skills as needed. 
Event Supervision
• Performs advanced work (pre/during/post event) with operations team members. 
• Supervises and directs other technicians during an event.
Equipment Maintenance
• Assists team with proper security, storage, transportation, and maintenance of equipment.  
• Performs inventory and forecasting of equipment needs. 
Job Qualifications
• Bachelor's Degree is preferred.
• Encore Technical Level 3 Certification is required.  New Encore team members must be certified by their location within 30 days
• 2 - Encore Technical Level Two Core Certifications are required (Audio, Lighting, Projection, Video, Scenic).  New Encore team members must be certified by a qualified proctor within 60 days.
• 4+ years of field experience in specialty area is required.
• 3-5 years of customer service or hospitality experience is preferred.
• Ability to interact professionally and effectively with a diverse work force, customer base and senior level management.
• Experience with project management of multiple tasks/initiatives.
• Strong customer, client and coworker interface experience and abilities.
• A valid driver's license is required for team members in positions that may operate Company vehicles.  Additional DOT requirement may need to be met if applicable. 
Competencies
•Ownership
•Hospitality
•Professionalism
•Responsiveness
• Safety Conscious
• Develops Talent
• Tech Savvy
•Manages Complexity
• Ensures Accountability
• Instills Trust
Work Environment
Hotel
Work is performed in a hotel/convention center environment with moderate exposure to outdoor temperatures and to dirt, sand and/or dust.  The working conditions will vary between moderately quiet to noisy volumes.  Team members will use high-end audio visual equipment and electrical components, and will be exposed to heights via lifts and ladders.  Team members may be asked to work in multiple hotel locations.  Working times will include irregular hours and on-call status including days, evenings, weekends and holidays.   Team members must adhere to appearance guidelines as defined by Encore based on an individual hotel or a representation of hotels in that city or area.   
#INDEVT
Sign Up For Job Alerts
Stay connected and receive the latest career opportunities at Encore.