Assistant Technical Events Manager (H/F)
Paris, France
Job ID: ASSIS024802
Overview
Our technicians enjoy the opportunities to work with innovative and cutting-edge technology on a daily basis. From setting equipment as elaborate as an LED wall to simply ensuring cable is properly run through the venue, our Technicians are the foundation of the events we build and bring to life. They ensure that each event is flawlessly executed, and work with the rest of the team to setup and strike down each event in a timely manner. At Encore, customer satisfaction is our highest priority, our Technicians play an integral part in establishing a positive relationship with each of our clients.
Success Profile
Here are some of the top qualities that will help you achieve success in this role:
Customer Focus
Desire to Learn
Drive Results
Technical Aptitude
Responsiveness
Hospitality
Other Important Traits
Communicator,
Team Player,
Organized,
Enthusiastic,
Versatile,
Self-starter,
Multi-tasker,
Efficient,
Safety Conscious,
Professional
The ability to put on the big shows that my hotel plans out or to teach the incoming technicians how to make these shows happen is why I really like the hustle and bustle of my day-to-day as a Technical Lead.

Purpose, Mission and Core Values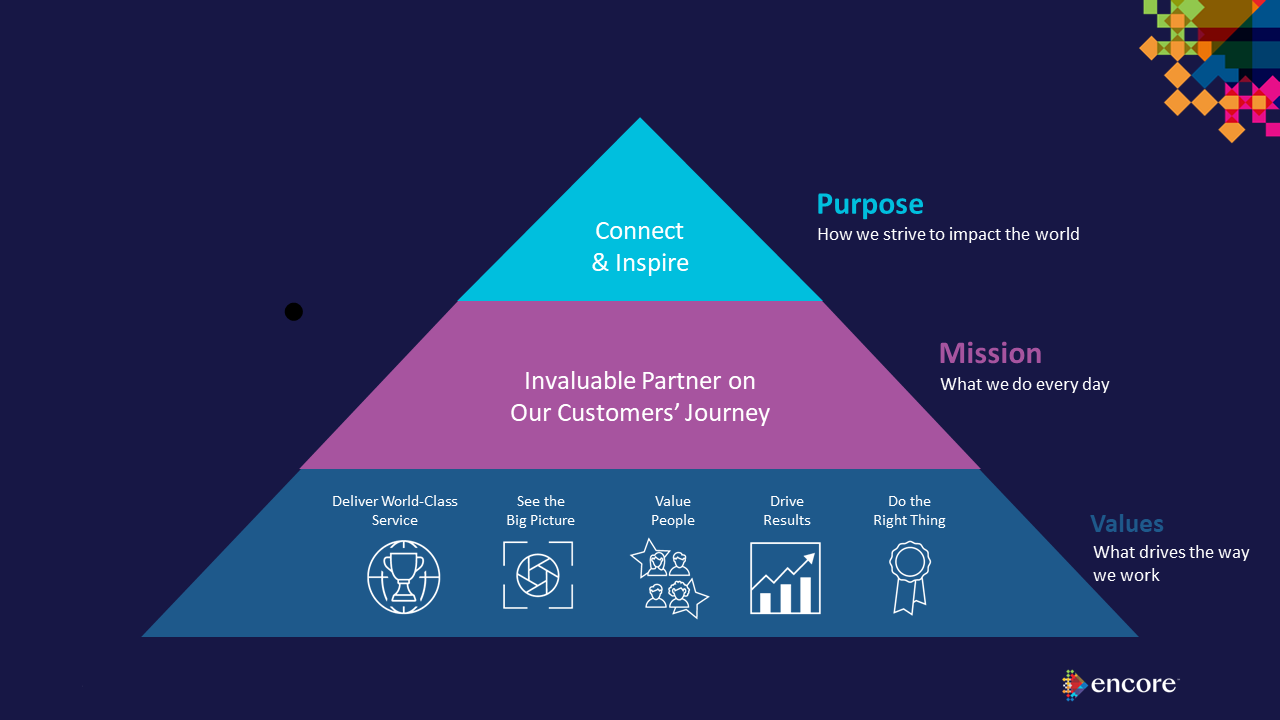 Purpose
How we strive to impact the world
Connecting & Inspire
Mission
What we do every day
Invaluable partner on our customer's journey
Values
What drives the way we work
Deliver world-class service. See the big picture. Value people. Drive results. Do the right thing.
Rewards
Paid Time Off

Vacation Days
Paid Holidays
Floating Holidays
Sick/Personal Days

Benefits

To see all benefits available, click here.

Rewards/Incentives

Premium Recognition Program (CenterStage)
Performance Incentive Plans (GEI Bonus)
Employee Referral Program
Annual Merit

Training & Development

Classroom/On the Job Training
Encore University
Career Pathing.

Mobility

Relocation
Global Transfer Opportunities
*Benefits eligibility varies upon position and/or full/part time status.
Responsibilities
Job ID ASSIS024802
Date posted 08/30/2023
L'Assistant Manager reporte directement au Responsable audiovisuel du site où il est affecté.
Il gère par délégation l'ensemble des aspects opérationnels des événements sur sites et est garant d'un événement parfaitement exécuté et de la satisfaction du client.
Il est le point de contact auprès des opérations de l'hôtel pour certains événements.
Relation Client
Est au contact direct du client final pendant l'événement et met tout en œuvre pour assurer la satisfaction de ce-dernier ;
Est au contact direct des équipes de vente et des banquets de l'hôtel et communique avec eux pour garantir le bon déroulement des opérations ;
Reçoit et traite les demandes simples et/ou de dernière minute de la part de l'hôtel ;
S'assure de recevoir en fin d'événement un premier retour sur la qualité des opérations (enquête de satisfaction).
Opérations Evénementielles
Est le régisseur opérationnel des événements ;
Gère les commandes de matériel au sein de PSAV ou vers les fournisseurs ;
Participe à la recherche et la sélection des intermittents en cas de besoin, transmet les demandes de contrats pour approbation avant envoi au service RH ;
Gère le stock de matériel sur place (entrées et sorties, entretien, inventaires, etc…) ;
Se charge du planning des techniciens sur sites.
Coordination des ventes
Reporte tous les changements et ajouts pour la facturation ;
Cette liste des tâches n'est pas exhaustive et peut être amenée à évoluer en fonction de l'activité de l'entreprise et du profil du candidat.
Profil recherché :
Formation bac+2 minimum souhaitée, idéalement dans le secteur de l'audiovisuel
Expérience d'au moins 2 ans dans le secteur du spectacle ou de l'événement ;
Très bonne connaissance des équipements audiovisuels ;
Bonne organisation et gestion du temps et des priorités, grande rigueur dans le travail et attention au détail ;
Très bon sens relationnel, s'épanouit dans le travail en équipe ;
Maîtrise des outils informatiques ;
Anglais courant écrit et parlé ;
Présentation extrêmement soignée requise en raison du travail en environnement hôtelier de luxe.
Rémunération : 30K-34K
Avantages :
Prime repas mensuelle

Primes sur objectif

Prime vêtement annuelle

Prime d'ancienneté

Programme de reconnaissance pour les collaborateurs
Sign Up For Job Alerts
Stay connected and receive the latest career opportunities at Encore.